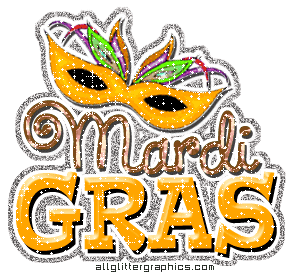 I have to say that I'm a bit prejudiced and in awe of how they do it. But it appears that

Italy

really knows how to celebrate Mardi Gras or better known as Carnevale. Masquerade balls, pageant's, jugglers and stilt walkers, singing, dancing and fireworks all are part of the festivities in the country shaped like a boot. The people of Italy however do not limit their merrymaking to one night. Weeks before Ash Wednesday the festivities start and do not end until 4 days after Mardi Gras! Although the

Netherlands

celebrate Mardi Gras, the people do see it as a preperation for the sacred Easter season. And

Sweden

has a totally different name for Shrove Tuesday, which is Fettisdagen. Their tradition was that Fettisdagen was the only day to eat Semla, which

is a traditional pastry made in various forms in

Denmark, Estonia, Finland, Latvia, Lithuania, Sweden

[1]

and Norway associated with Lent and especially Shrove Monday or Shrove Tuesday

.
Mardi Gras

, no matter where you spend it is just a f un day to be celebrated regardless of your religious beliefs or nationality. The traditional foods and drink are easy enough to make or be had, and you can celebrate as quietly or outlandishly as you wish. This year I cooked from morning to night for the special day...kicking it off with pancakes, and then making Jumbalaya and

King Cake

from scratch. Instead of having mojito's or Hurricanes to drink, I went traditional blue-collar American and served beer with our meal. I do suggest if you want King Cake, it's easier to buy than make as it takes a very long time to prepare. But if you do decide to bake it...it is very well worth it. Below are the two recipes I used for today's feast. Bon Appetite!
KING CAKE:
4 Tbsp reduced-calorie margarine
1/2 oz yeast, use two 1/4 oz packets
2/3 cup(s) water, warm (about 110°F)
1/2 cup(s) sugar, granulated, divided
1/2 cup(s) fat-free egg substitute
1 tsp table salt
1 tsp ground nutmeg
5 cup(s) all-purpose flour, or as little as 4 cups (see instructions)
2 spray(s) cooking spray
1/2 cup(s) packed light brown sugar
1/2 cup(s) raisins
1/2 cup(s) (chopped) pecan halves, chopped (or walnuts)
1 1/2 tsp ground cinnamon
1 Tbsp reduced-calorie margarine, melted
1 cup(s) powdered sugar
3 Tbsp water
3Tbsp sugar, granulated (use 1 tbsp each purple, green and gold decorating sugar)

To make dough, combine milk and 4 tablespoons of margarine in a small saucepan; set pan over medium-low heat. Heat mixture until tiny bubbles appear around edges of pan. Remove pan from heat and set aside to cool slightly.

Meanwhile, in a large mixing bowl, combine yeast, 2/3 cup of warm water and 1 tablespoon of granulated sugar; let stand 5 minutes. Beat in egg substitute. Beat in cooled milk mixture. Beat in remaining granulated sugar, salt and nutmeg.

Add flour, 1 cup at a time, and mix until blended and no longer sticky (this will take 4 to 5 cups). Using dough hook attachment on your mixer, or your hands, knead dough until smooth and elastic (about 2 minutes with dough hook and 8 minutes by hand). Shape dough into a ball.

Coat a large bowl with cooking spray. Add dough and turn to coat all sides. Cover bowl with plastic wrap and let dough rise in a warm place until doubled in bulk, about 1 1/2 hours.

When dough has risen, punch dough down with your fists to let air out. Roll into a large rectangle, about 14 X 18 inches; set aside.

To make filling, combine brown sugar, raisins, nuts, cinnamon and melted margarine in a bowl; combine until mixture is crumbly.

Sprinkle filling evenly over dough, to within 1/4-inch of edges of rectangle.

Starting from wider side of rectangle, roll dough up tightly, like a jelly roll. Bring ends of roll together to form an oval-shaped ring.

Coat a baking sheet with cooking spray. Place dough ring on baking sheet and pinch ends together to form a seal.

Cover dough with plastic wrap and let rise in a warm place until doubled in size, about 45 minutes.

Preheat oven to 375ºF.

Using a serrated knife, cut slits 1/3 of way through dough all around ring, 1 inch apart, to let steam vent. Bake for 25 to 30 minutes, until golden. Remove from oven and insert plastic baby doll into bottom of cake so it is completely hidden. (You can substitute a whole pecan or walnut for the doll.)

To make frosting, combine powdered sugar and 3 tablespoons of water in a small bowl; whisk until smooth.

While cake is still warm, spread frosting over top and sides. Sprinkle colored sugar over cake, alternating colors. Cut into 24 pieces and serve.


JAMBALAYA:
1 spray(s) cooking spray
2 1/2 oz raw turkey sausage chopped
1 large onion(s), chopped
1 stalk(s) (medium) celery, stalk, chopped
1 small green pepper(s), chopped
1/4 tsp cayenne pepper, or to taste
1/2 tsp dried thyme
1 tsp table salt
1/2 tsp black pepper, ground
2 clove(s) (medium) garlic clove(s), minced
2 medium chicken breast, cooked, skinless, cubed (about 2 cups)
28 oz canned tomatoes, whole, plum, peeled with juice
2 cup(s) fat-free chicken broth
1 cup(s) uncooked white rice, long-grain
Coat a large, nonstick saucepan with cooking spray. Over high heat, sauté sausage until crispy on edges. Add onion, celery and green pepper; sauté until tender.

Reduce heat and stir in cayenne, thyme, salt, pepper and garlic; sauté until garlic is fragrant.

Stir in chicken, tomatoes, broth and rice. Bring to a simmer, cover and let cook until rice is tender, about 20 minutes. Yields about 1 1/4 cups per serving.