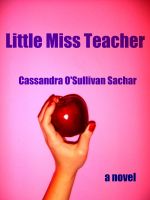 Told through the eyes of Candace Turner, a high school English teacher straight out of college, Little Miss Teacher details one woman's struggles through the important initial stages of her career and her life as a grown-up. While teaching her students about writing and literature, Candace learns her own lessons about life.
I am very excited having the opportunity of participating in the blog tour for author Ms. Cassandra O'Sullivan Sachar. I have also become acquainted with the on-line book store SmashWords, which not only is another site to purchase e-books, but if you are a writer and do not have an agent or publisher, this is a site which is affordable to self publish.
Little Miss Teacher is a short read, at only 199 pages, and as the story is told in the first person point-of-view it makes the novel a perfect length. Each chapter is titled with a quirky title which one can relate to in their own daily life. And what made reading this so enjoyable was that Ms. Sachar had us go through an entire school year, and covered a multitude of hot topics which have touched so many lives, both in the lives of young adults, and those of us who may be parents or have younger siblings. As you read, you are propelled back to your own school days, and what it felt like to be 'trapped' in a classroom and suffering through assignments. However it doesn't just focus on the lives of students. It gives you food for thought as to what it's like being a teacher, especially a first-year teacher…fresh out of college, and trying to make her mark on the world.
Take a journey through a school year, with the protagonist Candace Turner who is a freshman English teacher who is passionate about the subject she teaches and passionate about her 'secret-crush' who may…or may not be equally interested in her. Candace is roommates with her best friend Megan, and although they are thick-as-thieves, their outlook on dating and random hook-ups is as different as night and day. And as you look at their friendship and their personal values, it makes you reflect on your own relationships with people and how you either are a realist, and don't try to sugarcoat the facts, or if you tend to look through rose-tinted glasses. Candace faces everything from trying to make her lesson plans equally fun and educational, to the death of a student, to being both sexually harassed and accused of being a bigot by two different students, to dealing with the fact that even her personal life isn't as perfect as she thought it was when she has to face the fact that her roommate has a very serious health issue.
Little Miss teacher is one of those 'it' books. What I mean is that it's one of those books, that as you're reading what the main character, Candace Turner is dealing with, you say to yourself: 'I've done that', or 'I knew someone who had to deal with…', or "Oh my, when I was that age I had…happen to me.' Cassandra O'Sullivan Sachar is a rare author who presents to us real-life issues in this novel, without sounding too preachy or condescending. It makes us realize that in a world where more often than not, teachers who are abusing their students in one form or another are getting recognition, instead of the teachers who genuinely care about their students. Without giving too much of this novel away, I want to say that each of the topics handled in this book are covered with compassion, and makes the reader open their eyes to what we can face in our lives, regardless of age or profession. I highly recommend Little Miss teacher by Cassandra O'Sullivan Sachar, which is available in e-book format at Smashwords.
It's never to late to start to read. This is book review # 6 for the ChickLit Plus 2011 Challenge.